The technology year 2022 is ending and 2023 is upon us. Cloudflight looks at the relevant trends and drivers that will shape the agenda of companies and their IT and digital decision-makers in the coming year.
Last year's Digital Trends from Cloudflight were shaped by the economic and overall social situation and we drew them up under a high degree of uncertainty about the coming months. Twelve months later, the situation has changed in many places, yet it is no less volatile or unpredictable. For although the Corona pandemic is no longer considered a serious economic risk factor, global political events still strongly shape the corporate environment and plans for the coming year. We, therefore, expect a more conservative economic outlook. This means that we forecast lower consumer spending and, thus, also very cost-sensitive Digitalization strategies, which however does not directly equate to austerity measures and declining budgets.
One indicator that was often seen as emblematic of the technology market was the cryptocurrency industry. While many considered crypto an innovative way to multiply assets quickly but at high risk, its investors are unlikely to be looking happy about their account balances right now.
Even experts can´t agree on whether the crypto market has nothing but a cold which will lead to even higher long-term returns thanks to "HODL" strategies, or whether it cooled down once and for all and needs a totally new start.
Our readers may decide for themselves which variant contributes more to normality.
"Back to normal" is an existing desire companies have of being able to focus more on their core business and the Digitalization challenges within, along or directly next to their value chain. Many companies have at least managed to prove that they are resilient to dynamic environmental processes with digital technologies and software.
Now the focus of companies is reverting to new benchmarks for success. The Chief Digital Officer (CDO) and Chief Information Officer (CIO) are coming into focus. While they were the saviors and heroes of the pandemic in many places, they must now finally deliver measurable results within the Digitalization of the core business and diversification through digital technologies.
Digitalization must primarily arrive and have an impact close to the users. In the coming year, this means that IT and digital decision-makers will have to master the balancing act of transformation, disruption, innovation and sustainability.
In this task, business, digital and IT departments will have to work closer together finally to put the user first, to be able to take the necessary risks for new paths and to find a solid technical basis. It will quickly become apparent where this works and where this is only the (not lived) default on paper.
To give this new era a face, many are already talking about the "Age of Intelligence". In the immediate literal sense, this means above all the penetration of data-based technologies and Artificial Intelligence throughout the everyday business. However, it can also be understood more broadly and then describes not only the use of Artificial Intelligence and the active use of data for business purposes. Rather, it will also represent the organizational and technical path to get there and will influence almost every corporate decision as a mantra and line of action.
To enter the Age of Intelligence, companies must first do their homework. The existing technical debts, which have grown even larger in recent years as Digitalization has proceeded at all costs, must first be eliminated and companies must once again become the drivers, not the driven, of their IT landscape. The course must also be set for companies to be able to digitalize business processes and models sustainably and close to their actual target group, the user.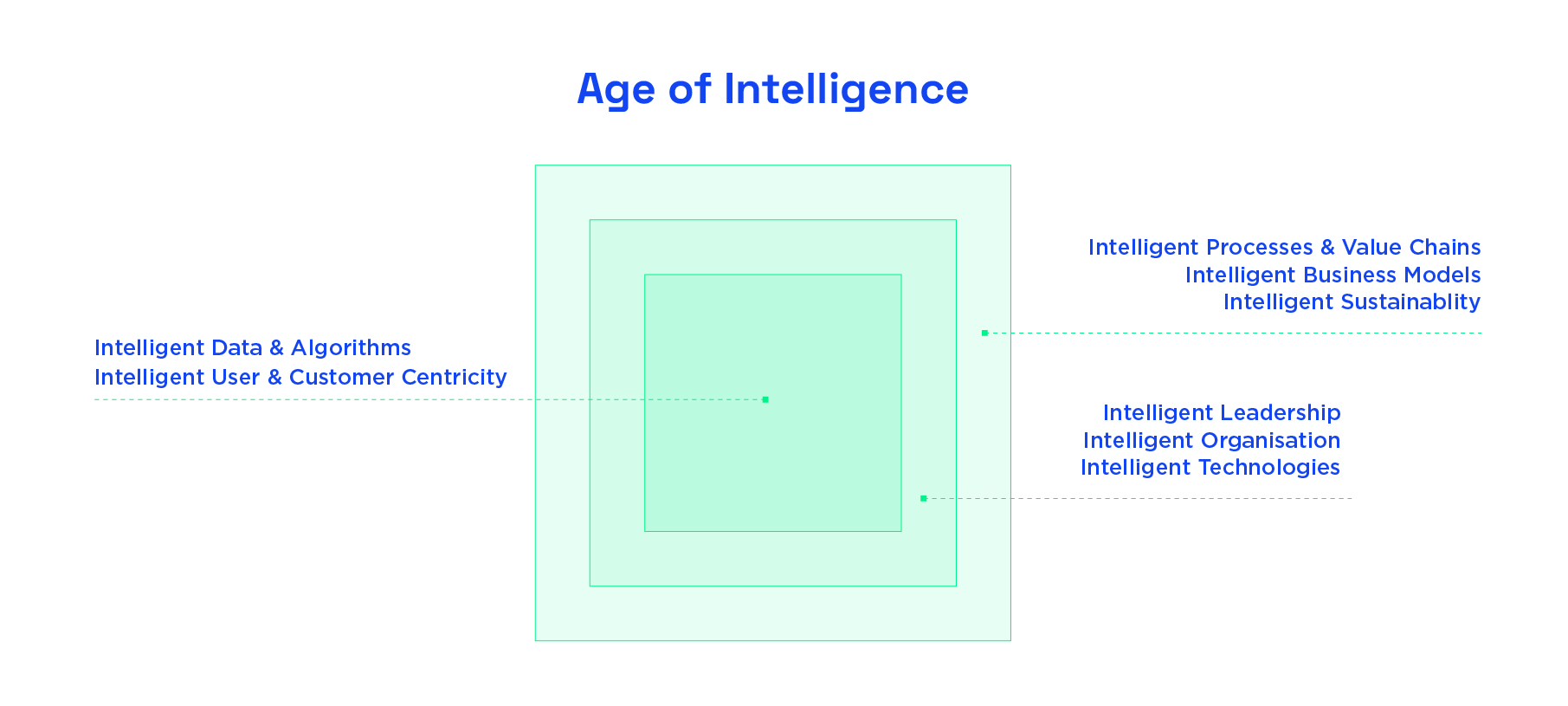 On this basis, Cloudflight sees the following trends & topics in particular as shaping the year 2023:
Strategy
Age of Intelligence: This new mantra will significantly shape business decisions. Digitalization is neither solely technical nor for a particular use case, but rather encompasses the dynamics of the entire enterprise. At the same time, the use of data in Digitalization is changing. Use cases are making more targeted use of data, algorithms and AI services. At the same time, more extensive data use cases are also being realized with the available resources. Big Data & AI at scale are taking on a whole new meaning. As a result of the rising learning curve, the success rate of AI projects is also growing from the still weak 20-25 percent.
Different KPIs: With the new year, the metrics for Digitalization will also be adjusted. Cost sensitivity and cost efficiency play important roles. Digital projects must be able to demonstrate their ROI even before they are launched. The development of in-house skills (see below) and security concepts are also becoming performance indicators for technology projects.
Base architecture builds vs. value-driving releases: Creating the "cloud platform" for the new business applications, traffic and development environments is still in vogue. In most companies, especially larger ones, this task is necessary and correct as an independent workstream. In medium-sized companies, it can also be implemented close to the use case and in parallel. Nevertheless, on the one hand, all companies should ensure that this platform is built up quickly and developed further in an iterative manner rather than being stuck on a technical basis for too long. Because those companies that can already build and operate critical digital services on this platform will have their advantages in 2023.
Technical debts I: To be prepared in terms of cost, but also freedom of movement in the Age of Intelligence, enterprises must also commit to overcoming technical debt. Budgets for rebuilding infrastructures and eliminating technical inefficiencies and island architectures are no value drivers, but cost blockers for the future.
Organization design
Insourcing & Mixed Teams: For long-term stability, companies will need to train their own teams on the new generation of technology. There will be no time for training and fully organic implementation. Therefore, companies must rather adopt the agile methods of their service providers and work in mixed teams from day one to be able to successfully adopt and insource. This comes at the expense of implementation speed, but will not be avoidable. Service providers are also adapting to mixed-team models and a higher gradient of senior experts and junior starters.
Operations Gap: Many digital services are still in the pilot stage or development. But at some point, they must be operated. This often means employing a team of cloud infrastructure and application experts 24/7. These capacities must be filled – either with professional automation logic and self-healing functions or, alternatively, by appropriately trained teams that take on this effort. To date, these have only been available to a limited extent.
New developments in the talent market: Many startups have had to lay off their employees in recent months. Venture capital has become scarcer, and the crypto bubble has burst for the first time. On the one hand, this is an opportunity for companies and SMEs, but on the other hand, it is also a challenge. Because employees also want to be "fans" of their companies, but for that, they also need arguments to love them and to have their wishes heard.
Technical debts II: Technical debts also arise organizationally. On the one hand, they arise when departments still go their own way and build isolated solutions that are more difficult to integrate and harmonize later. In addition, the teams must also be prepared to let go of their beloved traditional systems and move to the new standard.
Culture & Leadership
CIO & CDO at the Crossroads: For a long time, the duo of CIO & CDO was seen as the savior and bearer of hope for companies in Digitalization. And some have succeeded in doing so. Numerous examples show that both the synergy of the two roles and the establishment of genuine digital business models and processes in B2B and B2C environments work. But in many places, CDOs are still the innovation spirits with too little realism and impact, and CIOs are the stewards of workplaces and infrastructure. That will end in 2023, as they will have to take their successes to the big stage – it is not up to them alone, but it will be up to them ultimately.
Autonomy vs. Control: In order to achieve these necessary successes, they will inevitably need help. The teams' work and impact environment are especially important. Many companies fail because they need control in all areas until the very end – whether over the teams or their providers. A complete loss of control is, of course, not the goal. And especially at the beginning, clear lines can also show inexperienced teams the way. But as the demands for Digitalization success increase, their doers – the teams and providers – must also be given more creative freedom to enforce them – with clear boundaries and guardrails.
Agility for ROI: Many companies still fail to really implement agile working methods. Either it ends in chaos, or people often stick too stoically to the Scrum theory. But agility means, above all, being highly responsive and delivering results quickly. This can be especially advantageous when projects are expected to quickly pay for themselves financially and pay for themselves. If regular iterative releases are made on a solid MVP basis, the services and apps can have an impact early on.
Technical debts III: Teams and leaders are still busy reducing technical debt – or at least taking care not to build up new debt. This is a burden because it diminishes the spirit of innovation and creativity. Therefore, they should identify and overcome their technical debts even more quickly and consistently.
Technology
Technical debt brake (Technical debt IV): In the end, technology in the narrower sense is the biggest problem of technical debt. The IT of two worlds has finally been exposed as misguided. While there will and must be traditional IT systems with different requirements and processes that will shape the core of the everyday business, they too must be prepared to exist in a new, data- and cloud-driven world.
Cloud paradigm shift: Cloud infrastructure was the most important "cloud-first" / "cloud-only" framework strategically, but rarely implemented so consistently in practice. However, the longer the first seedlings and applications exist on the public cloud, the more the resentments and uncertainties fall. Thus, the public cloud is becoming the real data center alternative for app and data platforms in many companies. The seemingly irrefutable anti-lock-in course is being replaced by a conscious and targeted approach to managed services and the cost of change.
New Security & Zero Trust at Scale: Cybersecurity will also be a particularly crucial factor in 2023. This is still a balancing act between technical and organizational levels. The public cloud usually solves the technical part better than the company's own stack with tools that can be integrated immediately. Companies must learn to rely on these and at the same time not only prepare their employees and organizations for security by design, but also control this even more closely and create the framework.
On the road to Generative AI: Looking to the future, Artificial Intelligence is also maturing day by day. Generative AI, or at least comparable use cases that work with autonomous systems that develop and expand themselves, is already technically possible to some extent today. It will certainly still take years before this can be used on a broad scale, but companies should start taking the first steps. At the same time, the EU-wide AI regulation is also an important structural update that will mean a lot of attention and hopefully also helps in the development, handling and operation of such solutions.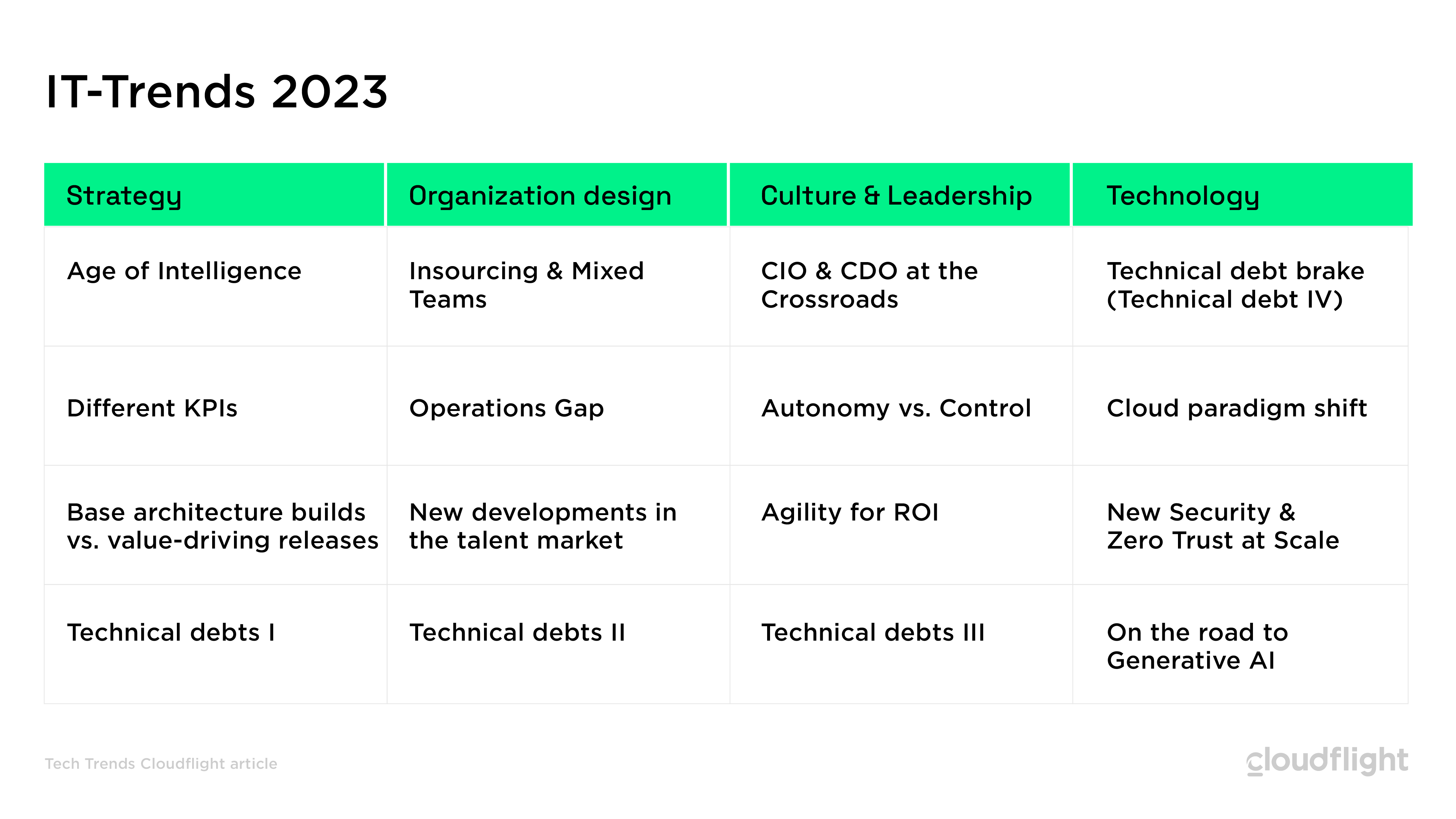 Cloudflight stands for the highest standards in the implementation of individual software in the web, mobile, cloud, AI, HMI, embedded and eCommerce environment, as well as for agile and innovative teams. For this reason, our technology trends are also based on the experience of projects, the impressions and feedback of our clients and community peers, and the assessments of our research experts.
The following have contributed to the Technology Trends 2023:
Franz Hauer
Sebastian Hidalgo
Maximilian Hille
Daniel Klemm
Johannes Matiasch
Jan Mentel
Bernhard Niedermayer
Andrej Nikonov
Anna-Lena Schwalm