How could our children learn if the schools remain closed after Easter?
If you listen closely to the leading virologists in Germany, such as Prof. Christian Drosten from the Berlin Charité or Prof. Lothar Wieler, head of the Robert Koch Institute, it quickly becomes clear that the coronavirus is not a matter of four weeks. By the time a vaccination is available at the beginning or middle of next year, one-third of the German population will be infected. Anyone who has children knows that schools and daycare centres are one of the biggest virus hubs in our society. No matter how well teachers and childcare professionals look after them, the smallest in society simply cannot realistically implement "social distancing". Also, it is not very conceivable in our culture at the moment that all children and teachers will be wearing mouth guards for a whole school day in three weeks after the Easter holidays. So what to do if the schools do not open again or if many parents do not want to send their children to school because of their fear? In addition, thousands of school children in Germany will fall ill in the next 6 months. Most of them will survive the infection well but still will not be able to attend school for several weeks. If siblings or parents fall ill at a later stage, many children may not be able to attend school for several months, even though the schools may officially reopen.
In the business environment of modern information workers, the remote work alternative has become reality from one day to the other. "We" are used to jumping from one video session to another and can be productive for weeks with minimal physical contact. For schools in Germany and Austria, however, all this is a new territory! Of course, millions for digitalization have been dumped into schools. That money, however, has gone into immobile smart boards or IT workstations with fixed desktops. Often, there are hardly any teachers at all who can make sensible decisions about investments or who can handle digital concepts with confidence. No public school known at present has even begun to think about including sick children with online lessons or even started to work out a digital emergency plan for long-term school closure. Technically speaking, you do not need too much and, thanks to the wide range of offers from the major technology providers, it is often for little money or free of charge at all. Therefore, with this article, we try to help at least a little bit to support digital literacy in schools and to give decision guidance.
So what do you really need to implement a digital classroom?
Video conferencing and recording.

What we mean with this is an easy-to-use video

conference solution that works on any standard end device (browser, PC, Mac, Android or iOS tablets and smartphones). It is important to be able to conduct a real-time video conference with minimal effort on the part of the teacher, in which virtually "present" students can be called and ask questions. In addition, the digital lessons must be able to be recorded directly, so that absent students can watch them later to catch up on missed lessons. Some of the commercial systems are too complicated for a school child. But once you see how confident a third grader is in using video games or video apps like TikTok, it is realistic to expect them to participate in a video class on their own. The tools just have to be intuitive to use.
Persistent & structured chat.

Many parents now know the class-parents chat channels that are currently being used intensely. Everything, official and unofficial information, worksheets and sometimes meaningless comments of some parents enriched with discussions about leisure activities that have nothing to do with school, appear in one stream. What a mess! No wonder that many teachers deliberately avoid this channel. And yet we are not even talking about the Facebook group's spying in the WhatsApp connection data. Nevertheless, classic e-mail is completely unsuitable as a medium for an online class. Schools need a structured and easy-to-understand chat platform for lessons with the children and a second channel to communicate with parents. The chat with the kids is supposed to be based on the lessons. In other words, everything that belongs to a subject should appear in a dedicated stream; whether it is the announcement of a lesson, the live video lesson, the homework done there, the questions the school kids ask about it or, finally, the recording of the video lesson if you missed it live. Only then can a platform be used to help both, the virtually present children and the kids learning in a time-delayed manner without additional administrative effort and involve the parents in a meaningful way.

Document's platform.

Even today, schools still print and copy heaps of paper. Classroom teaching in primary school and in the first classes of secondary schools works with textbooks and worksheets. Most households also have a printer at some Internet terminal to provide children in quarantine with worksheets. Today a teacher does not even have the email addresses of all parents. Many parents with several children would also not be able to print out the current worksheets of an online school day for all their children. A virtual classroom must therefore be connected to a cloud drive from which the children themselves can print out their worksheets with a simple smartphone or tablet.

Course management.

Course management is known from commercial e-learning systems in adult education. There, for example, the submission of work tasks by the students is controlled or even grades are given. Much of this is not needed in a public school. Nevertheless, learning control is a great challenge for all the teachers who only sees their students via video. Simple tools that at least document participation in live video lessons or watching a recording are an indispensable means of ensuring learning success.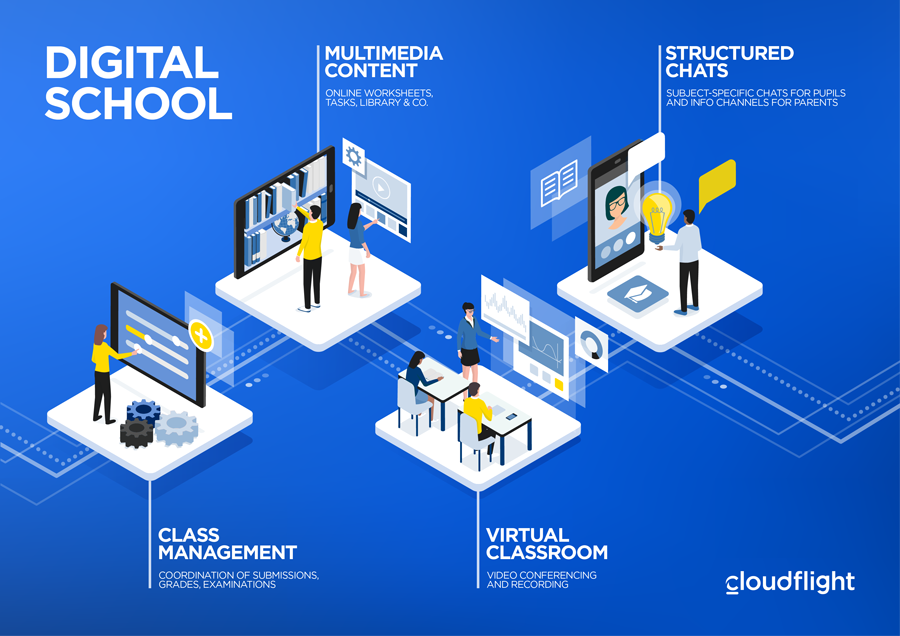 Pros and cons of different platforms
There are indeed solutions that can do all this out-of-the-box. These are commercial e-learning platforms as used by larger companies for adult education. This is, though, far too expensive for schools and too complicated for smaller pupils under 14 years of age, because it is built for adults. Of course, Microsoft has also been involved in the education sector. However, the offers are either aimed at face-to-face teaching with learning content (see https://education.microsoft.com/de-de) or essentially offer the Microsoft Office standard applications in a cheaper licensing model for schools and universities (see https://www.microsoft.com/de-de/education/default.aspx). There is, though, no freely available course management solution from Microsoft that combines the components video, chat and documents for one class and one subject.
In order to start with something in the first place, some schools at least look at the market for free video conferencing systems. Many commercial systems also offer a free service. However, in times of corona, most of them massively shift computing power and bandwidth to commercial customers.
So are our observations at Microsoft. The free offer from Microsoft Teams, which includes a modern video chat, is shaking up quite a bit during peak hours, while companies with a commercial O365 subscription get the same product in good quality. This is a legitimate tactic, which should just be known when making your choice. The older and now discontinued Microsoft Skype4Business has become practically useless in the days of corona since the servers – no matter whether they are used by companies or cloud providers – can hardly handle the volume with the old technology. Most of the consumer solutions, like the free Skype from Microsoft, are rather made for person-to-person use but not for groups of 20 to 30 school children and are also rather useless for this application.
The video service www.zoom.us also offers a free account. Sessions are stopped here after 40 minutes. Ideal for short home office meetings. A great alternative for an online school lesson. The quality was still excellent this week.
Unfortunately, the French IT giant ATOS is no longer actively selling the www.circuit.com collocation tool from the former Siemens subsidiary Unify. With its integration of chat and video conferencing, the product would have been ideal for schools.
The learning content platform moodle.org is also very well known and used by many secondary schools and universities in German-speaking countries. This is an international open-source software, which is used free of charge in 100 languages by hundreds of millions of teachers and students worldwide. It can be operated by the students themselves or hosted by a Moodle partner at a reasonable cost. Moodle combines virtually all of the above elements except for live video conferencing, which was not needed to the same extent before. Course management, document platform and chats are very nicely integrated. For example, if you combine Moodle with Zoom as a live video conference, you would need to manually add the Zoom recordings to the learning content but it would certainly suit the realities of secondary schooling best.
If schools really want to run and organise online teaching without their own software and without any financial resources, even Moodle is not a solution. Learning is more complex and needs an operator, like a web site. For schools that would like to teach digitally at a lower cost and, above all, more easily, we can recommend taking a look at Google Classroom. Behind this is a very simple but just as easy to understand course management system, which offers a structured chat along subjects (courses) and can also control the learning progress of the students. Google Classroom also brings together the G Suite document platform with the Hangout/Meet video platform, which competes directly with Microsoft's Office 365. Unlike Microsoft, G Suite is permanently free of charge for schools and universities in the standard subscription (see https://edu.google.com/intl/de_de/why-google/k-12-solutions/?modal_active=none). There the video service Hangout/Meet is also included free of charge with minor restrictions. Although normally only universities with more than 250 students in an online course reach these limits, Google has even lifted these restrictions initially until 1 July 2020 in response to the corona crisis (see Google press release). But regardless of this, Google's Hangout/Meet offers a permanent free video solution for schools and universities, which is more than sufficient for most schools. The quality is good enough to be able to follow the lessons fluently. Sometimes there is a higher latency (delay between sending and receiving the video transmission) than the competitor Zoom. However, the video stream rarely breaks off, as is usual with Google's YouTube. The excellent integration into the course management Google Classroom more than compensates this handicap.
Video sessions on meet.google.com can be announced in a virtual classroom. Recordings from a video session are clearly arranged in the Google Drive folder connected to the classroom.
The free quotas on Google are so high that a few weeks of lessons can be added there. This enables children who have been ill for a certain period of time or who have had to overcome corona to make up for missed lessons. After all, about one third of the German population will probably become ill in the next 12 months!
Google now also offers all applications (except some help pages for administrators) completely in German as browser and mobile app. Google also complies with the European Data Protection Act (DSGVO) and does not sell any user or connection data from the G Suite. Learning content is of course NOT easy to find in Google search as long as a teacher does not explicitly request this.
Even though we hope that schools in Germany will soon be accessible again, this may be an orientation for all schools that aim to prepare for alternatives.