"Industry Focus" nennen wir bei Cloudflight unsere neu geformten, branchenorientierten End-to-End Dienstleistungen rund um die Themen Softwareentwicklung. Im Verlauf der letzten Monate stellte jeder dieser Bereiche sich und seine Projekte in Form eines Online Get Inspired Events vor. Ein kurzer Rückblick auf unsere Eventserie, die bequem aus dem Home Office oder dem privaten Sofa aus besucht werden konnte.
AI and Digitalization in the Transportation and Logistics Industry
The start was made by the Transportation and Logistics sector team around Georg Ogris and Armin Blaha right after the summer break with their presentation title being "AI and Digitalization in the Transport and Logistics Industry". Together they showed that although more than 50% of all companies use digital tachographs and GPS positioning, telematics systems for optimizing fuel consumption, routes or order management are only used by 23% of all companies (n(Telematik)=9682, n(System)=2219)*.
The guests at the online event probably recognized themselves and their company at one point or another when it came to the obstacles that slow down the implementation of digitalization technologies. In addition to the frequently cited reasons such as high investment costs and the need to ensure data protection, these include lack of time, problems with technical integration into existing systems and a lack of information about the economic benefits of these technologies.
To overcome these obstacles, our event provided insights and explanations based on projects that Cloudflight already implemented together with its customers. Ture Sayer, Project Lead at Cloudflight, gave an example with his own developed automatic vehicle recognition. It manages to do this even under changing conditions and in real time, and by doing so it determines the trajectory of vehicles and sorts them into the categories relevant to the customer.
Our COO Jörn Petereit also gave important insights into the topics IoT and Digital Twin and showed how these technologies can be used to optimize an entire value chain.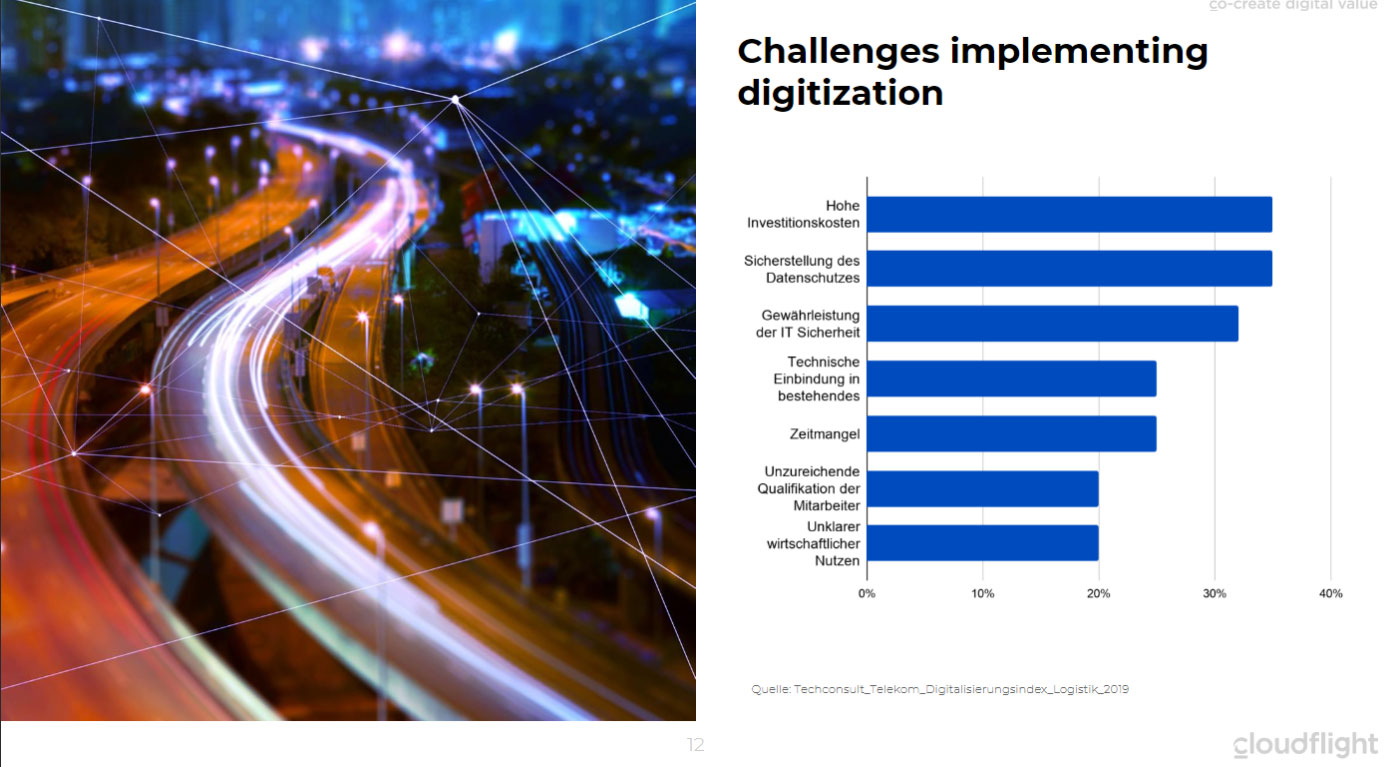 Intelligent Work Processes in Public Administration
If you thought that smart work processes and public administration are a contradiction in terms, our Industry Focus Public Sector team was pleased to convince you of the opposite on 8 October. Moderated by agile Coach Gustav Messany-Oberwandling, Anton Bayer, responsible for this industry focus, and Scrum Master Dominik Dopplinger, discussed with our guest Stephan Prechtl from the University of Vienna about the jointly implemented project u:space.
This new portal at Vienna's second largest employer offers all 90,000 students and 10,000 employees the possibility to digitally manage tuition fees, view semester schedules, manage personal documents as well as access rights and much more. The discussion was also focused on the topic of agile working methods and Stephan explained how flexible working practices are also applied in the public sector.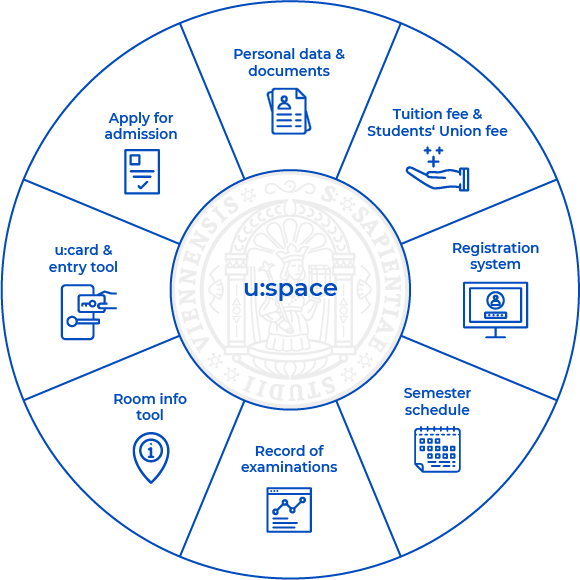 Future of Mobility: Digital (E-)Mobility and AI as a driver of Innovation
Enikö Buchtala and Dominik Rockenschaub, responsible for the Automotive & Mobility industry at Cloudflight, also led their guests through an exciting session on November 3rd. Their event focused on the question of the future of mobility and how AI technologies can serve as drivers of innovation. In addition to some use cases, such as AI, which helps production employees at BMW to perform less monotonous tasks, Dominik also presented a decision paper on when it is either more advisable to have an individual AI developed or when to choose a "ready-to-use" AI.
For this event, we were also able to win two guest speakers. Rajneesh Badal, Founder and CEO of Travel with Zoey, explained how his AI Zoey helps companies build relationships with customers by acting as a bridge between information, technology and even human communication. He also discussed Cloudflight's contribution to the project: providing an automation rule to gradually increase the level of automation from 50% to 90%, streamlining a process from 25 minutes to one minute processing time.
The second guest speaker was Sebastian Tanzer, Co-Founder and CEO of triply, who is working with his team to make public transport smarter. Together with Cloudflight and other partner companies, triply is working on the research project to develop a system for location-based mobility analysis and derivation of combined demand models of different transport modes.
Cloudflight's Requirements Engineer Johannes Matiasch illustrated the advantages of using Digital Twins in the automotive industry, including cost saving potentials, shorter production times and real-time detection of production errors. The event was furthermore supported by Katrin Strasser, responsible for Natural Language Processing, and Alessio Montuoro, Computer Vision Lead, who together gave a short intro to the ModelCloud platform created by Cloudflight. This is an artificial intelligence development tool for professionals. Modelfly will then offer end-users the opportunity to view and try out the developed artificial intelligences in a model-based way.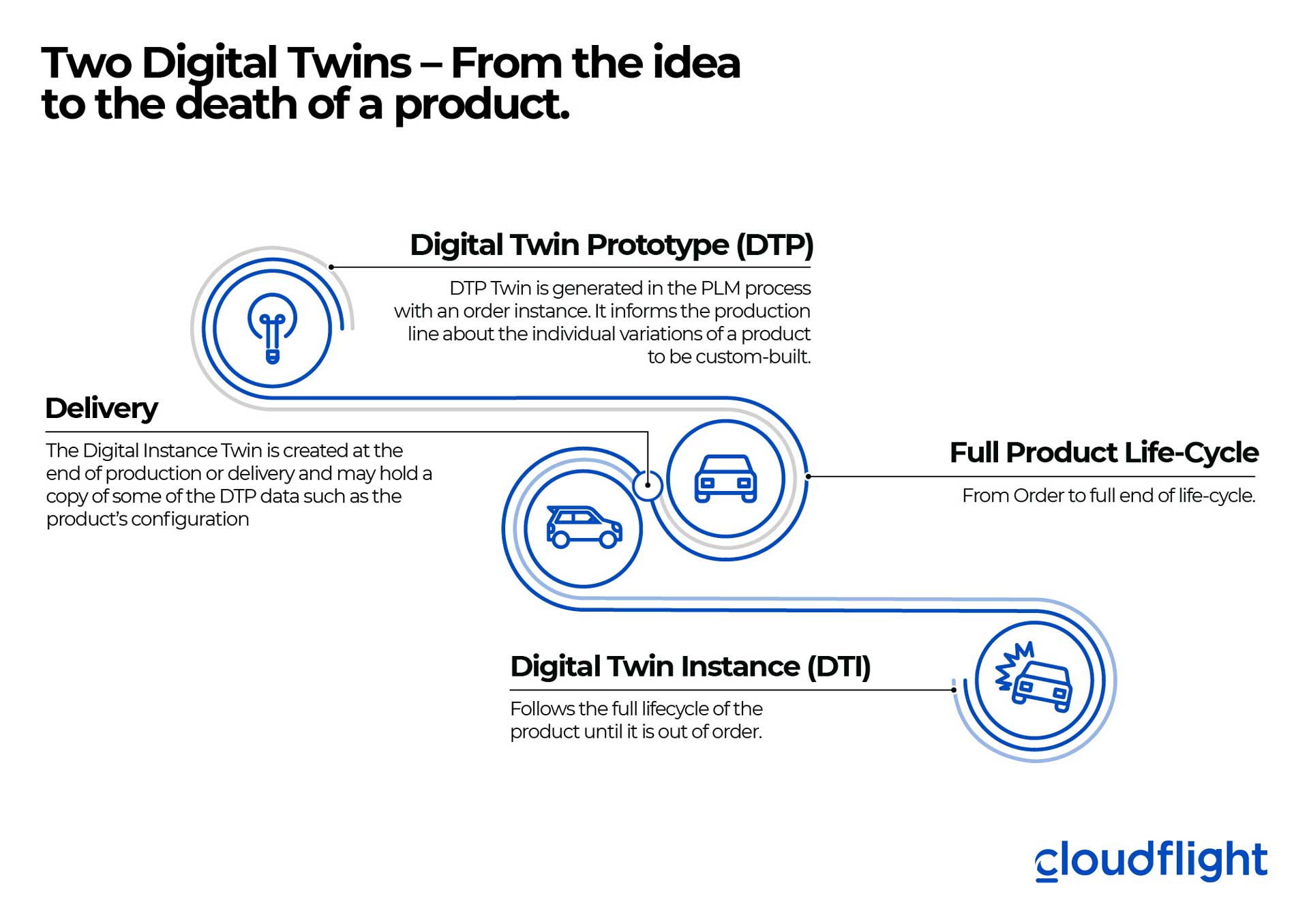 Lift-Off for the future: Digital Transformation in the Aerospace Sector
The Industry Focus Aerospace team rounded off the event year 2020 with their event "Lift-Off for the future – Digital Transformation in the Aerospace sector" on the 10th of November. Laura Costa, the Requirements Engineer of this sector, gave a short and concise introduction before handing over the virtual floor to Michael Aspetsberger, Lead of the Industry Focus Aerospace.
Besides an insight into Cloudflight's Digital Innovation Journey from idea to finished product, he gave best practices for the implementation of agile large projects. He handed over the screen to his co-leader Werner Mücke, who went into more detail about Big Data analyses in the field of earth observation and, with the example of aerosol measurement in the atmosphere using satellite data, demonstrated the expertise Cloudflight uses in high-performance computing to help its customers make better forecasts.
This event also had an external guest speaker on board: Konrad Wenzel, Director of the ESRI R&D Center in Stuttgart (formerly nFrames), spoke about the joint implementation of the Cloudflight Aerial Processing Service, which transforms hundreds of thousands of aerial images into 3D models and digital twins of an entire city in just a few days.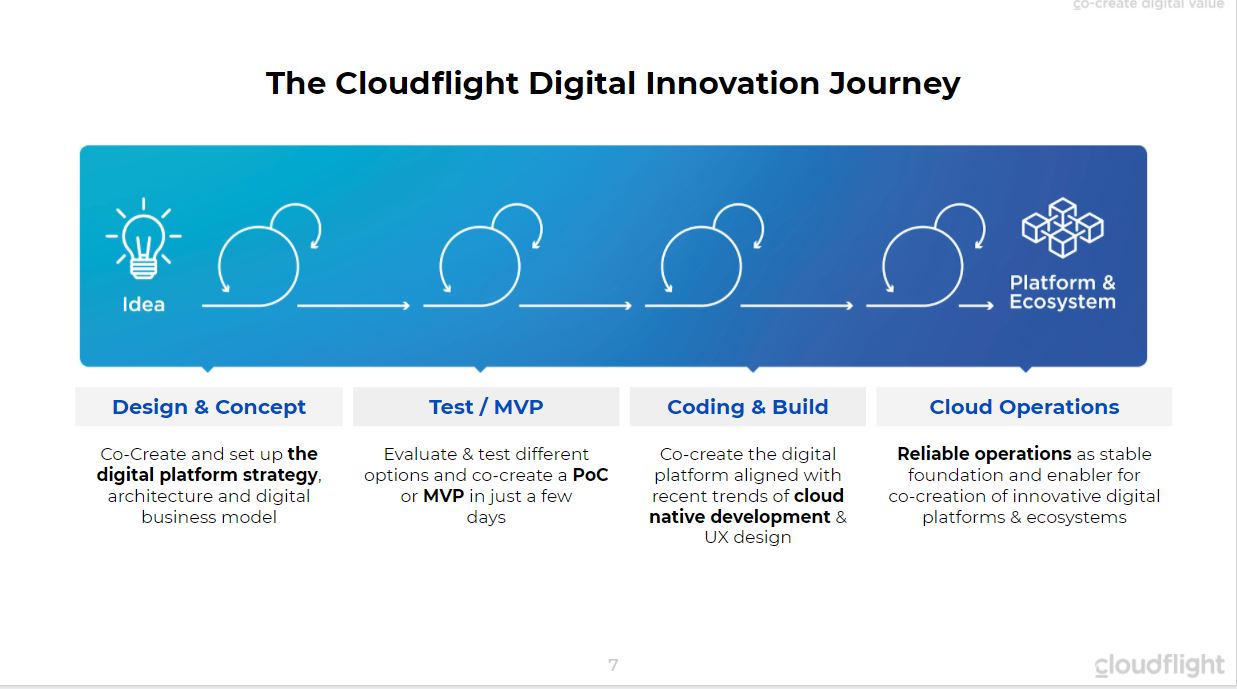 *https://www.dataforce.de/news/infografik-telematiknutzung
Do you want to learn more about our events?
Write to us at . Our technical experts are there for you. You can also look forward to our exciting events in 2021. Subscribe to our monthly updates to stay up to date!