Every year, around 160-180 national and international trade fairs take place in Germany alone — and the number excludes regional events. Up to 2020, the headcount estimation lied around 180,000 exhibitors and ten million visitors every year. This year, with around 297 trade shows, many of the trade shows postponed to 2021 will take place, giving Germany a summer dense in trade shows. But are trade fairs still in keeping up with the times? What makes them so attractive and what role do new technologies, Digitalization and software play?   
Especially for medium-sized companies, the meetings are an important tool for marketing and sales. They not only offer a good opportunity to maintain existing relationships with suppliers and customers, but are also effective in attracting new customers or employees.  
Many trade shows have changed not only in size and number of participants, but also thematically. In particular, Digitalization, the penetration of software and technology in all areas – B2B and B2C – has become the leading topic at non-digital trade shows as well. 
Corona as a catalyst for online trade fairs 
The Corona pandemic has abruptly changed the trade show scene. Many trade shows had to be canceled or postponed. This resulted in damage to the German trade show industry alone of around 1.6 billion euros, including around 670 million euros in the trade show construction sector. Prior to this, sales in the trade show industry rose for 15 years almost without exception.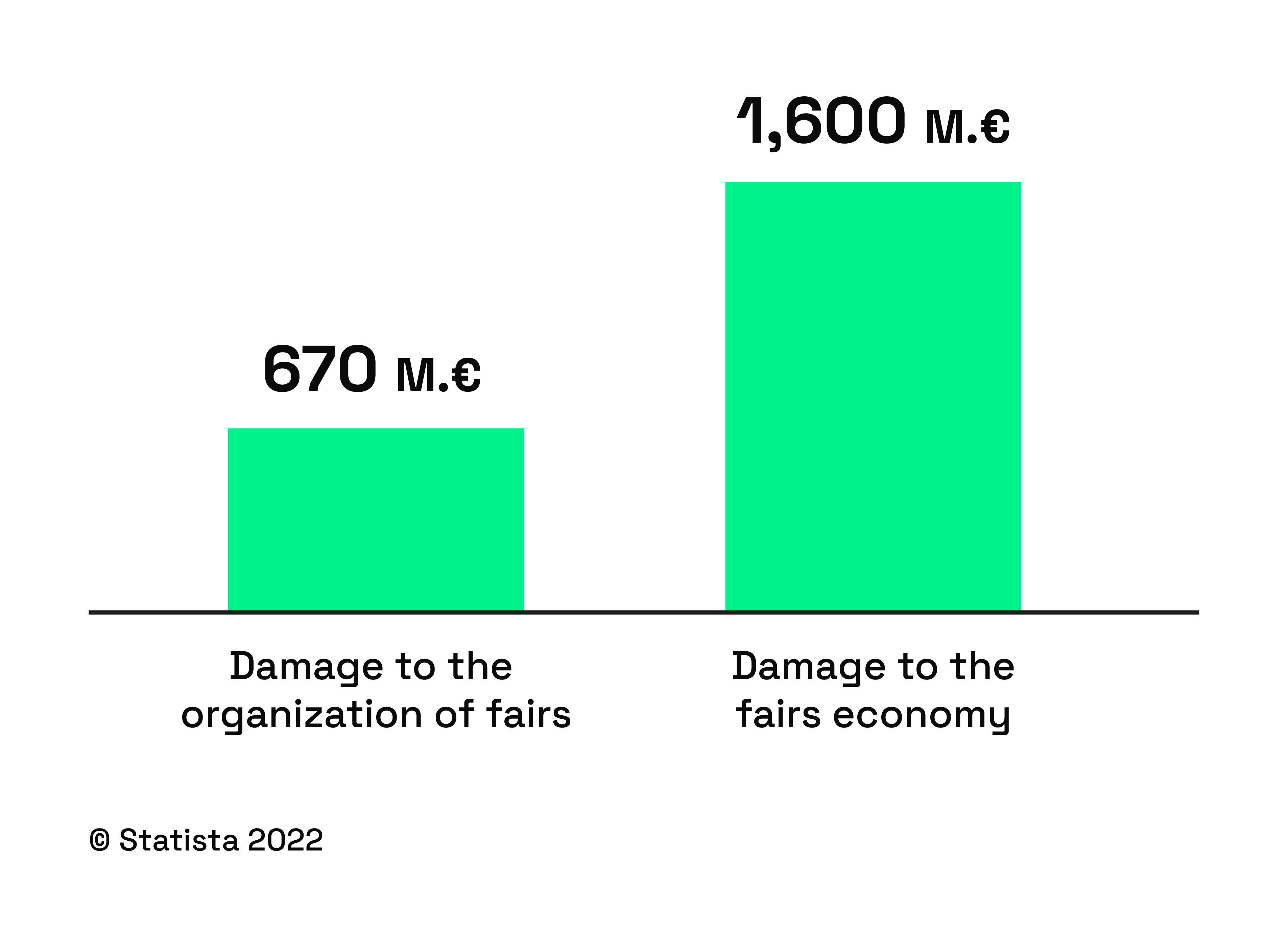 To at least partially mitigate this damage and to stay in the conversation, companies have met at online trade shows. Digital events established themselves as an alternative. At least they were used frequently in times of lockdown and, with the right approach, even score with some advantages over the classic.   
Now that trade shows, face-to-face encounters and networking are gradually returning to presence, the meaning and importance of face-to-face experiences is only just becoming apparent again. Although digital trade fairs and virtual showrooms are now part of the expectation in the environment of many companies, the return to the familiar trade fair concept is inevitable for visitors and many companies – because digital events also take place before and after the event. Many events now also exist as hybrids, with on-site trade show booths and digital formats. 
Trade fairs- then, now and in the future
Fairs have existed for a very long time: We can track them back even to medieval history. In those times, on certain days of the year, a goods or money market of supra-regional importance took place, usually along a well-attended church festival to ensure good participation.   
Trade fairs, where the focus was less on direct sales and more on the presentation of samples and the associated taking of orders, developed in the course of new sales and distribution channels during industrialization. From the middle of the 19th century until the First World War, world exhibitions in particular were regarded as an outstanding event in which German industry participated intensively. As venues for the first presentation of important technical inventions, they had a strong economic function and were even used as propaganda tools after 1933. The numerous trade fairs for clearly defined specialist areas and industries came into being during the East-West separation, when numerous topics had to be established in the West. In the meantime, a large number of trade fairs exist for a wide variety of industries and serve as a platform for innovation and problem solving.  
Multi-sector trade fairs that address several branches of industry have now been largely displaced. Hannover Messe, as one of the world's largest trade fairs for industry or the capital goods sector, is still one of them, although with certain, different focal points. For example, at the last Hannover Messe, the main theme was "Industrial Transformation" and exhibition areas were around Automation, Motion & Drives, Digital Ecosystems, Energy Solutions, Logistics, Engineered Parts & Solutions, Global Business & Markets and Future Hub. Hannover Messe thus attracts a comparatively broad audience.  
Even today, politicians have a strong interest in maintaining an existing and functioning trade fair industry. As the world's leading location for trade fairs with an international focus, five of the ten largest trade fair companies have their origins in Germany. Corona deprived the state of four billion euros in tax revenue. It is therefore not surprising that numerous politicians visited the Hannover Messe to talk about top issues and digital innovation.  
But what really counts? 
Qualified leads. The interest of politicians shows that the trade fairs address today's challenges, such as climate, transport, automation, energy, etc., but it does not at the same time reflect the success of a trade fair. For it is not the number of exhibitors and visitors or even their political significance that can provide information about this. A trade fair is crowned with success when all relevant designers of an industry come together. Only then can qualified leads be generated through valuable contacts and a trade fair become the platform it should be. This is also a decisive difference between a trade fair and a conference or congress. While participation at a trade fair focuses on clear sales promotion or qualified leads through the presentation of concepts or products, the focus at conferences and congresses is more on the exchange of information about innovations. So the more specific the trade show, the higher the chance of a qualified audience. 
Trade fairs: A selection
In addition to rather smaller regional trade fairs, whose advantage lies primarily in a shorter journey, there are a large number of international trade fairs as a central platform for companies and experts in a particular industry. Here is a selection of trade fairs relevant for Cloudflight (sorted alphabetically). 
Progressive digitization does not stop at trade fairs. These have changed greatly in recent years anyway. The Corona pandemic has made things even worse. Even if the number of participants is growing and it may be difficult to stand out from the crowd, trade shows are and remain a highlight for many companies.  
In summary, the following can be stated: 
Trade shows are important – whether virtual or physical. They continue to provide a stage for pursuing customer-oriented goals, opening up new markets and establishing new sales channels. 

 

Trade shows are no longer just for presenting new products and innovations and talking to (potential) customers. Projects and concepts that are not yet ready for the market are also brought along. This provides a platform for new partners and creates a wider range of potential customers. 

 

The days of standing at your booth and waiting to be approached are over. Keynotes and panels at many trade fairs create an additional supporting program that fires up the exchange of information. Whether as listeners or speakers, attention can be generated or new ideas developed. 

 

Trade fairs are becoming more and more digital: the orientation of the trade fair format, from the former market shouter to today's hybrid trade fair concept. The preparation and follow-up takes place online. But right now, personal or physical contacts on site are once again particularly valued. 

 

Multi-sector trade shows are increasingly disappearing in favor of trade shows. The desire for more pointed topics related to software, technology and digital components is growing. These are currently expanding the core business of many companies and are good showcases on the one hand, but also very important for the companies. This is accompanied by an increasingly qualified audience, which gives a trade fair a certain exclusivity. 

 

Trade fairs reflect the challenges of our time. Whether climate change, energy or sustainable building – the key issues addressed affect everyone. Also, due to the Corona pandemic, new needs have arisen or neglected topics have experienced on. From filter systems to digital learning, you'll find disciplines being talked about and discussed.

 

Innovation made by Cloud & AI: Thematically, no trade fair takes place anymore without Cloud Computing or AI. They permeate all industries and provide decisive, forward-looking concepts for almost every subject area.

 
For decision-makers who should visit physical trade shows again or continue to do so in the near future, trade shows that have not necessarily emerged historically from the IT or digitization corner are particularly suitable. Trade shows on industry-specific topics and areas of application are often much more practice-oriented and successful than general trade shows or pure technology product shows. This is because innovation and value creation take place in further thinking, not in the standard product.   
Thus, especially trade fairs increasingly offer a technology and Digitalization reference, because this is the biggest growth and innovation driver in almost all areas. For this, the decision-makers, even non-technical ones, have to get involved in the opportunities and challenges with the increased use of technology. The key questions they should ask themselves in advance are, for example, what they expect from the technologies, personal challenges, and their willingness to invest and learn.