If one had to describe the current hustle and bustle of the digital and IT teams of many medium-sized and large companies in a short statement, it would probably read something like: "Data & API Platforms all over the place!
And that is good and right. Because with these platforms, companies can perform several important tasks at once:
Establishment of a central Cloud architecture (Public / Hybrid / Native): The introduction and productive use of Cloud services for all business units based on uniform standards (governance, authentication, monitoring).

 
Linking core systems & "new world": Even if the IT of two worlds is a myth or often a dead end, core systems such as SAP and the new cloud-native applications will always have a slightly different operating model and data will (have to) remain in the core systems

 

Create test & development environment: Many companies are still unsure today which digital services bring real added value. MVPs and prototypes can be developed and tested in a low-cost, low-risk environment.

 

Creating new innovations: IoT, Artificial Intelligence, Real-Time Data Streaming and Co. promise immense innovation potential, but can usually only be implemented economically with the latest technologies from the Cloud

 

Differentiation & Competitive Advantages: The increasing commoditization of technology is making it increasingly difficult to bring your own innovations to market. This makes it all the more important to use established standards so that neither time nor money is wasted.

 
Thus, numerous enterprises are just driving their parallel efforts to set up a company-wide Cloud architecture on one of the hyperscalers, build Cloud-native development teams and install the data platforms as a control center. 
Power to the Teams – Why decision power for Cloud Computing still needs to change
Naturally, the step into the new technology world and digital business is still not easy for some companies. Although there are numerous success stories that we have been able to report on for years, there are also many challenges, additional costs and failures in this area. What usually sounds simple and trivial is all the more difficult and complex, especially when it really has to work.
Because despite all the standards and best practices, every company must once again consider for itself which architecture configuration and which use cases really add value in this area.  
For this reason, the decision-making power still often lies with management and is of a very basic nature. The management or individual organs provide an overall direction in order to be able to act as structured as possible and with supposedly low risk.
Management buy-in is essential for successful Cloud Transformation and integration into business-critical processes. The more involvement and support there is at the management level, the more promising the technical approaches will be. The still rather centralized decision-making power is also accompanied by a rather restrictive cloud platform architecture. The teams that operate on it usually have a clear list of guidelines to which they must adhere. This either comes directly from management or is created on their behalf by their own IT as enablers of the application teams.
These guidelines deliberately constrain what can be useful, especially in the early stages of Cloud adoption and platform build, to actually define a good guideline for the implementation teams. However, this list of guidelines should be adaptable in the future or even be able to be relativized in order to leverage more degrees of freedom.
In any case, companies should be careful not to transfer current, static concepts, which tend to originate from traditional IT, 1:1 to the new digital infrastructure platform and Cloud world. This path harbors numerous difficulties and thwarts the Cloud concept and a large part of the opportunities and goals associated with it. For the new cloud world, security, privacy and regulatory should be adhered to, but definitely new policies should be created to avoid this.  
Thus, in the long run, teams and their individual needs will challenge these policies. Companies should have answers on how to decide at the boundaries of their own defined policies and what conditions need to be met to shift more of the decision-making power to the teams.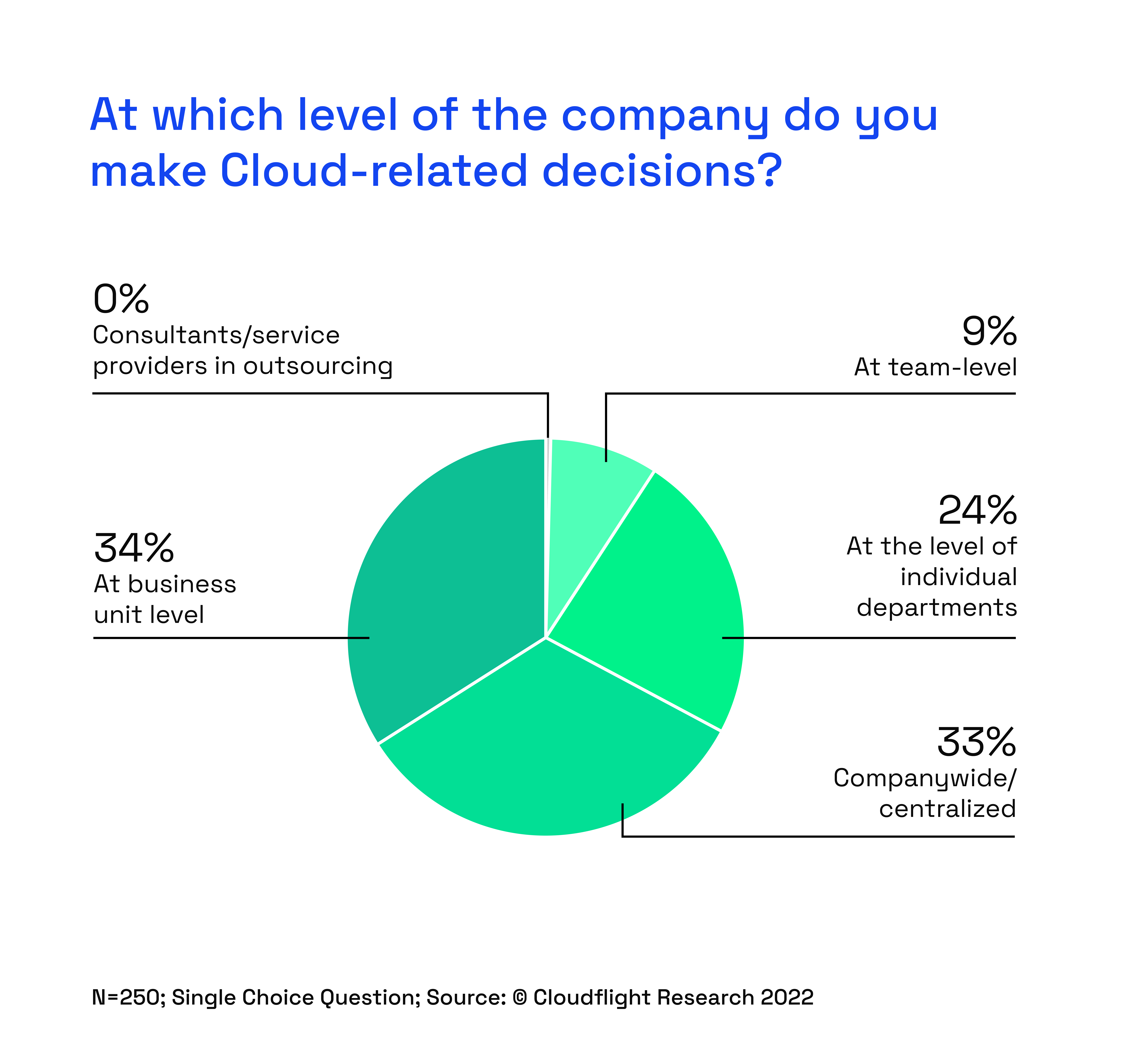 Modern organization and architecture concepts for data and API platforms in the Cloud
The organizational models and the data and software architectures are often more closely related than many think. Conway's Law, a regularity observed by Melvin Conway, states that software architectures strongly reflect the organizational structure of the respective company.  
Thus, the platform and operational concepts around enterprise data and API platforms are also undergoing transformation.   
In the first step, companies at the time increasingly combined development and operations responsibilities. While development and operations were still sometimes delivered by different teams, which can make sense in practice, the respective coordination and joint architectural considerations were very much in sync.  
Nevertheless, and this is one of the most common models today, platform development and application development of individual services are still separated. While the platform teams primarily look for a universal and long-term solution that takes into account as many contingencies as possible while still unifying the highest level of standards, the application teams look for the best possible solution for their respective areas. It is not always easy to reconcile these two objectives.  
Overly large platform solutions that have numerous costly cloud managed services in place but are not even fully utilized are the result. Ultimately, this means nothing more than high costs for less return.  
As a result, the stage is now being set for the next evolutionary stage of platform development. In the new approach, the DevOps and implementation teams of the respective use cases dictate much of the platform architecture. This does not necessarily mean that the platform teams lose importance, they are just rather driven in their requirements by the concrete use cases of the company. In close cooperation with the development teams, they develop their architecture, which must be all the more variable and less static. Nevertheless, it is also important for companies to rely on standards and ready-made services wherever these are already established and "best practice". The individualization and own development, which ultimately provides the competitive advantage, is an important, but increasingly complex and relatively smaller part.  
The convergence of the use case and platform teams brings the product mindset of the respective worlds even more in line. Companies that succeed in defining and implementing their configuration based on the essential use cases of their data and API platform will therefore be successful even faster, more efficiently and more sustainably than those that abstract their platform and applications too much from each other in technical and organizational terms.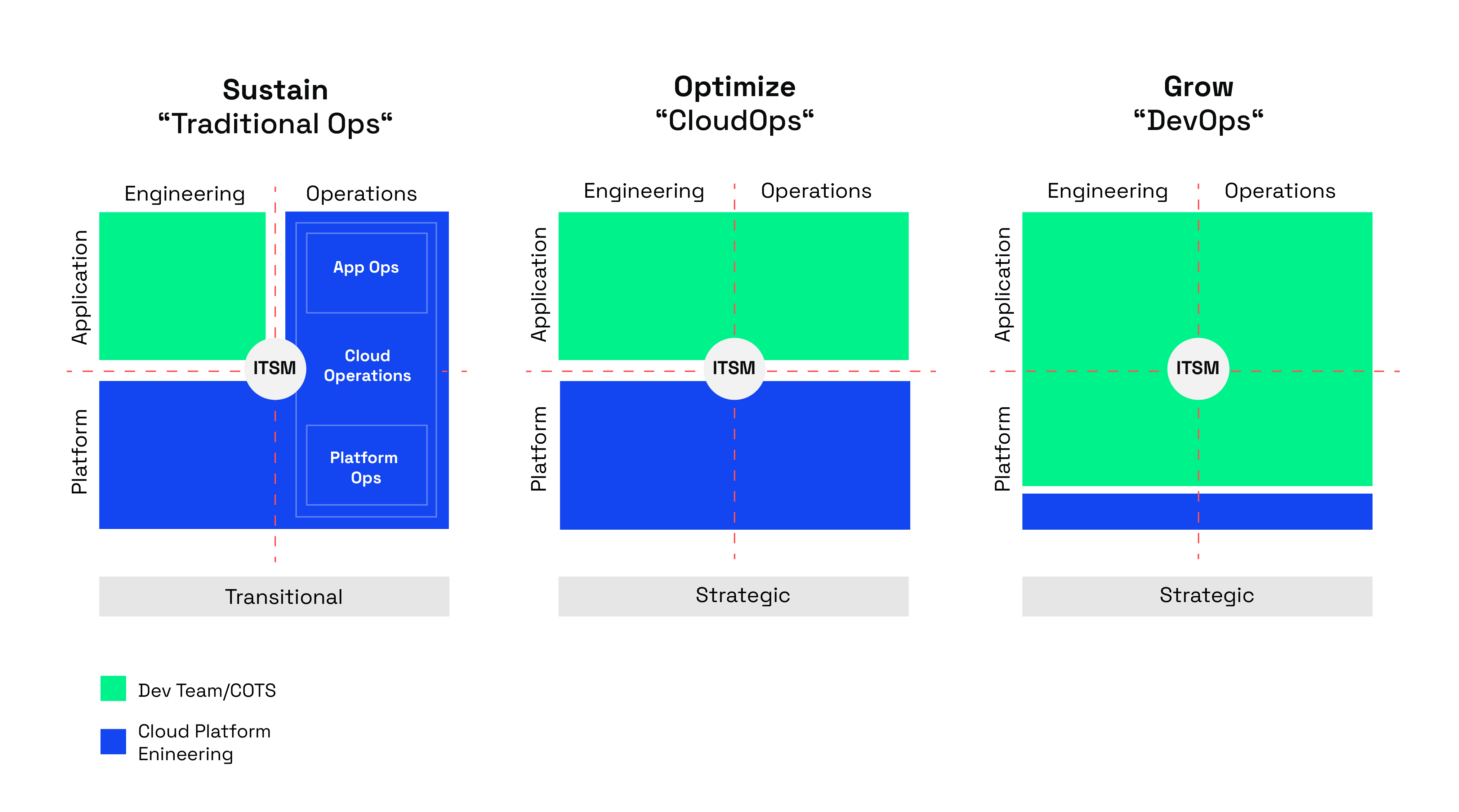 In practice, this is not possible for many companies as of today, since internal experience on these platforms is not yet available and structures and resources are therefore lacking. The existing IT landscape also still very much dictates the system design of the platforms.
Nevertheless, they should be prepared for the fact that the individual applications and services along the value chain are increasingly the holy grail and growth guarantor of the company and therefore also take on a special technological significance.  
Sooner or later, the development and implementation teams will be able to take over a large part of the operational decisions.