Digital business models – they are on everyone's lips. But what exactly is behind them? We explain seven common patterns of digital business models in order to give you inspiration for your own digital business model. Be sure to include these considerations in your digital strategy.
What are digital business models?
What exactly are digital business models? We define them as business models in which the value proposition is enhanced by digital technologies. This means that the use of these technologies creates considerable added value for customers. According to Osterwalder's Business Model Canvas 9 components are needed to define a complete business model. Especially the components "Value proposition", "Customer relationships" and "Channels" can be mapped using the following patterns for digital business models.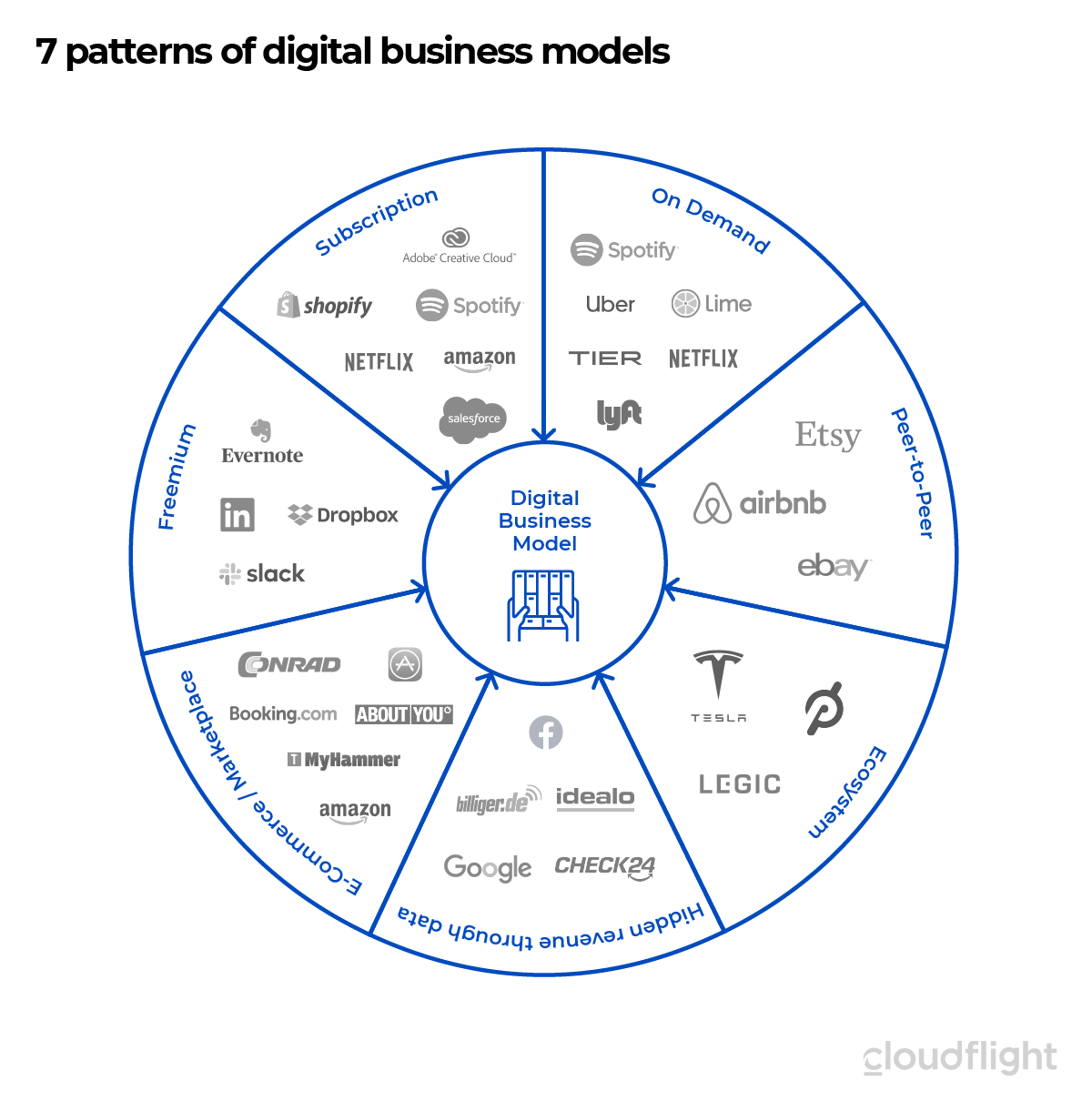 Subscription
The subscription model has been around since the 18th century. Many people are familiar with it through the local newspaper or a mobile phone contract. The customer pays a constant amount to the seller of the product or service on a regular basis (e.g. monthly). In recent years, many new digital business models based on the subscription model have emerged – and changed entire industries in the process. Instead of the one-time purchase of a DVD or CD, customers gain unlimited access to the entire library of films, series, or music tracks through a monthly payment. Prominent examples here are Spotify (music) and Netflix (video). Amazon is represented in several categories at once: music, videos, audio books, and eBooks. Increasingly more software solutions are also being offered as subscriptions. These include the Creative Cloud from Adobe, CRM systems such as Salesforce, and shop systems like Shopify.
The advantage of a subscription is that customers get used to the service and are reluctant to give it up if they get a lot of added value from it. Thus, bounce rates are relatively low, and the providers can expect regular revenues.
However, if a provider wants to switch to the subscription model, this means a fundamental change in both the business model and the structures behind it. The product or service may have to change completely in order to justify the recurring fees.
On-demand
As soon as the customer feels a need, they can satisfy it immediately by ordering and receiving the product or service almost in real time.
The customer wants to get from A to B. This can be done immediately by renting an electric scooter from TIER or Lime, for example, or by ordering a vehicle for passenger transport such as Uber or Lyft. Videos and music can be instantly retrieved from Netflix, Spotify, and Amazon Prime. Even groceries are now delivered within 10 minutes as is promised by Gorillas.
In order to achieve the on-demand advantage in your business, you must offer either content or services completely digitally or have your other processes optimised and under control so that it works smoothly – from order to delivery. If you can manage this, you can create enormous added value for the customer when real-time execution is important.
Peer-to-peer
In a peer-to-peer model, an independent company creates a platform/marketplace where people can trade with each other. Even though these marketplaces now also host a large number of commercial suppliers, the original idea was to bring private individuals together to trade with each other.
Prominent examples of this are:
AirBnB

: (Sub)letting of private flats to travellers

eBay

: Sale of used items

Etsy

: Sale of unique handicrafts
The platforms generate revenue by collecting a commission on sales. In return, they provide the infrastructure and marketing for the marketplace. Peer-to-peer marketplaces can also offer additional services such as a fiduciary relationship or insurance services.
E-commerce/marketplace
E-commerce should be a household word by now: the online sale of goods. However, what few realise is that most e-commerce shops are also marketplaces. First and foremost Amazon: This is a platform for goods that are sold directly by Amazon as well as a marketplace where other commercial sellers can sell their goods. For the end user, it is a uniform portal, and the items are not sorted by supplier. This makes it seem as though Amazon can offer "everything", even though the goods are often sold by independent retailers and not Amazon itself.
Other specialised marketplaces include AboutYou for fashion and Conrad for electronics. There are also marketplaces for services such as myHammer and hotels (Booking.com). The AppStore from Apple is also a marketplace. Very few applications are developed by Apple itself. Instead they are developed by third-party providers who use the AppStore as a sales platform.
Here, the marketplace providers also generate their revenues in the same way as the peer-to-peer providers: They receive a commission on the sales.
Ecosystem
If you build an ecosystem, you offer customers much more than a simple product or service. The combination of diverse offers creates an added value that would not be achieved by the sum of all individual parts.
The car manufacturer Tesla can be listed as an example here. In addition to the pure vehicles, Tesla also offers its Supercharger network to its customers, who receive enormous charging benefits as a result. Tesla has also added the Powerwall and the Solar Roof to its portfolio as add-ons.
Peloton takes a similar approach: It sells the hardware (exercise bike and treadmill) and the monthly membership. In addition to the complete dovetailing of the previously individual elements – timing (live and on-demand), hardware, and software – clients gain access to a highly dedicated community that supports each other. That is what makes this ecosystem so unique.
One example from the B2B sector is the LEGIC security platform. Starting with the sale of key cards, a complete ecosystem around locking systems was created. Here, customers receive ready-made and scalable solutions for the security of their buildings.
Freemium
Freemium is a portmanteau of "Free" and "Premium". It describes a pattern for business models in which part of the product is accessible for free. As a rule, these are basic functions. However, if users want to activate more options of this product, they are forced to switch to the paid tariff. These can be various options such as using the app on multiple devices (Evernote) or the possibility to use additional communication methods (Slack). Dropbox has also chosen this model: a small amount of cloud storage is free; however, if you need more space, you must purchase a subscription. LinkedIn can also be used free of charge. However, only by signing up for premium membership do you get additional functions such as the ability to send messages to non-contacts.
The challenge with the freemium model is that you offer a stripped-down version of your product that is still good enough that many users want to use it but at the same time still leaves enough room for improvement in order to create a premium version that is so valuable that users are willing to pay extra for it.
This model is also quite valuable when it comes to building a platform that unfolds its full value only through a high number of users. It is easier to gain many users in the first step via the "Free" product.
Hidden revenue through data
It is not only the direct transactions with customers that bring in revenue. Even if you are the operator of a service or platform that is free of charge for the end customer, income can be generated. This is done by generating income streams based on user data.
A first option is to serve highly targeted ads to users based on their interests and behaviour. This highly relevant targeting option is worth a large budget to advertisers as can clearly be seen in the sales figures of Facebook and Google. Spotify also uses the ad model to finance its free memberships.
Another way to monetise user data is the affiliate model. Here, the advertising or mediating platform receives a commission when customers buy the product. Well-known examples are comparison portals such as Check24, Idealo, and billiger.de. The beauty of these portals is that they ideally show users the products that are most relevant to them. To ensure this, a considerable amount of (user) data is analysed.
Now your innovative strength counts
You will have noticed that some business models use two or more of the patterns we have presented here. A combination is advantageous and necessary in order to create a fundamentally new business model. Perhaps you have already thought about how you can expand your business model or rebuild it from the ground up while reading these different patterns. But if you haven't quite got your thoughts in order yet, ask yourself the following questions when thinking about a new business model:
What is the "unfair advantage" that I have over my competitors? How can I highlight this using digitisation or the above patterns?

Where is there a risk that I will be attacked? How can I prevent this?

How can I disrupt myself? What kind of offer can I create that could completely replace my current business model and make it obsolete?
However you approach business model evaluation, start now. Don't wait until others do it and you have to defend yourself. Only those who score goals can win. Play on the attack, not on the defensive.